· about our concerts ·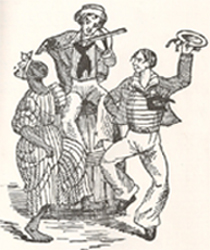 New Scorpion Band concerts are constantly changing, but they all bear the group's musical trademarks – fine solo and harmony vocals, thoughtful arrangements and a virtuosic, ever-changing instrumental texture.
A typical New Scorpion Band concert features between twenty and thirty different instruments on stage, and the music represents a wonderful variety of songs and instrumentals from the various traditions of the British Isles and Ireland.
The New Scorpion Band are always splendidly turned out, and the atmosphere of their concerts is intimate and friendly, with entertaining introductions from the stage and plenty of incidental humour. There are also many opportunities for the audience to sing along.
Programme length is about 2 x 50 minutes, with an interval of 15 minutes.
CONCERTS FOR CHILDREN
The New Scorpion Band has performed many times for children, and we have frequently given schools' workshops and other participatory musical events for young people. All our programmes can be presented in a shortened version – for instance, All Aboard is a short programme of sea songs, and our spooky concert for children is The Ghost of Tom. There's always plenty of opportunity for joining in!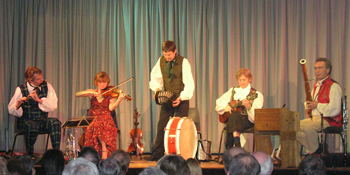 "A great British export" Katherine Board, Director, The British Council, Colombia.
"The public, with the force of its applause, wouldn't allow them to leave the stage..." El Espectador, Colombia.
"The ideal travelling folk orchestra" English Dance and Song.
"A concert of great variety and high quality, almost like a chamber piece of folk music, such is the virtuosity of playing and the exquisite choice of material" Dorset Artsreach.
INSTRUMENTS played by the band include...
violin, viola, flutes, oboe, bassoon, harmonium, cornet, tuba, tenor horn, Irish pipes, Northumbrian pipes, Scots lowland pipes, serpent, trombone, clarinet, recorders, whistles, cor anglais, French horn, guitar, mandolin, banjo, English guitar, lute, laouto, shawm, rebec, dulcimer, nay, bodhran, side drum.
· youtube live performance videos ·
Fylde Folk Festival - forty seven minutes of live performance at the 2010 festival.
Wassail ! - five pieces from the collaborative concert between The New Scorpion Band, The Bournemouth Symphony Orchestra and The Purbeck Village Quire, December 18th 2010.