· vocals · banjo · guitars ·
· percussion · laouto · mandolin · lute ·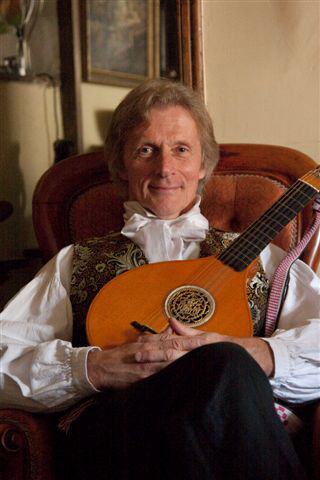 Robin Jeffrey is a versatile performer on historical plucked instruments, and has played the lute, theorbo and baroque guitar with many of the well-known names in the early music field, including The Sixteen, The King's Consort, the Purcell Quartet and Nigel Kennedy.
Robin has a long track record in stage music. He has contributed to many productions at the National Theatre, and recently has performed for several seasons at Shakespeare's Globe, including Romeo and Juliet, Twelfth Night, Othello and the Merry Wives of Windsor. He has also played in historical operas for English National Opera, Scottish Opera and other companies, in settings ranging from the ancient Odeon in Pompeii to La Fenice in Venice, the Salzburg Festival and Opera City in Tokyo.
Robin has a lifelong interest in Mediterranean music, and frequently gives concerts with his wife, the Italian singer Alessandra Testai, as the duo Etrusca, with a repertoire ranging from historical Spanish ballads and Italian madrigals to songs of the Greek Islands and Constantinople. Three years ago they also created the Tivoli Café Band to perform the old European popular song and café music repertoire, immediately asking Sharon to play violin.
Robin has for many years played traditional Jewish music with The Burning Bush, appearing at venues throughout Britain, visiting many European festivals and giving several live broadcasts on BBC radio and television.
His playing of instruments such as the Arabian oud and Greek laouto is in regular demand for television and film soundtracks. His career has taken him to the U.S.A. and Canada, Colombia, Brazil, Japan, Australia and most of the countries of Europe.
&middot Tivoli Café Band's website - www.TivoliCafeBand.co.uk
&middot The Burning Bush's website - www.TheBurningBush.co.uk